This is for the Non-Indian Visitors to my blog. First is the delicious Dosa of South India. Made from Rice paste, a main food item of the South. I believe it is quite famous abroad too!! The white thing is the coconut chutney or paste quite tasty. And you can see the inside of this DOSA, which is actually a MASALA Dosa. Masala meas Spices but in reality it is only filled with potato+ onion "sabji". I think I should not break my head with the english translations as you can see what it is. The reddish liquid is called Sambar, also visible in the photo of the Vada below.
Here is the coconut paste or "Chutney"
And here are the Vadas or Sambar - VADAS as these are eaten with the Sambar that you see (Liquid - Dal)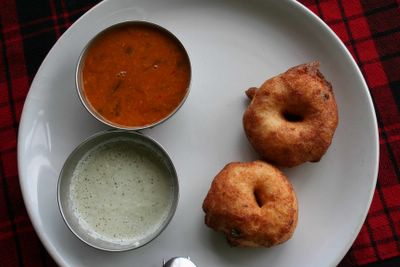 This is the same Sabji which you can eat with Puris (below) or inside the Masala Dosa. Made from Potato and Onion and Mustard Seeds, salt, turmeric.
Made from Wheat Flour and water, fried in Oil are called Puris. In Bengal they make these with White Flour and are called "Luchis" and are white.
How is the close-up? Yummy!!